Shirley Ryan AbilityLab AphasiaScripts

0 Items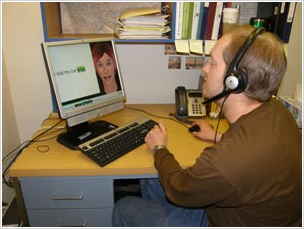 Welcome to the Center for Aphasia Research and Treatment at the Shirley Ryan AbilityLab (formerly the Rehabilitation Institute of Chicago).
Script training is aimed at helping people with aphasia use short self-chosen monologues and dialogues in natural, conversational contexts. Intensive practice leads to more automatic and accurate production of the sentences within the script.
Practice can be accomplished in a cost-effective manner by using computers. AphasiaScripts® is a software program that was designed specifically for script practice. It is unique in that it uses an animated agent that serves as a virtual therapist.
The virtual therapist produces natural speech with correct movements of the speech articulators and assists with the practice similar to a real speech-language pathologist. An extensive research project that evaluates the efficacy of AphasiaScripts® has been completed with positive results.
Note:  AphasiaScripts® requires Windows operating system and a PC or laptop computer.  It is not compatible with Macs, or with any tablet.
Upon purchasing AphasiaScripts® you will receive an email invoice from Content Shelf with your registration key (order number beginning with T). Please use the link provided in the email to access your AphasiaScripts® download.  Save the email in an easy-to-remember place! And please read the Instructions before downloading the program.
AphasiaScripts® works with Java Version 8, a free download from www.java.com.  Please download this version of Java to your computer before downloading AphasiaScripts®.  Download Instructions, including information on Java, will be available when you purchase AphasiaScripts®.